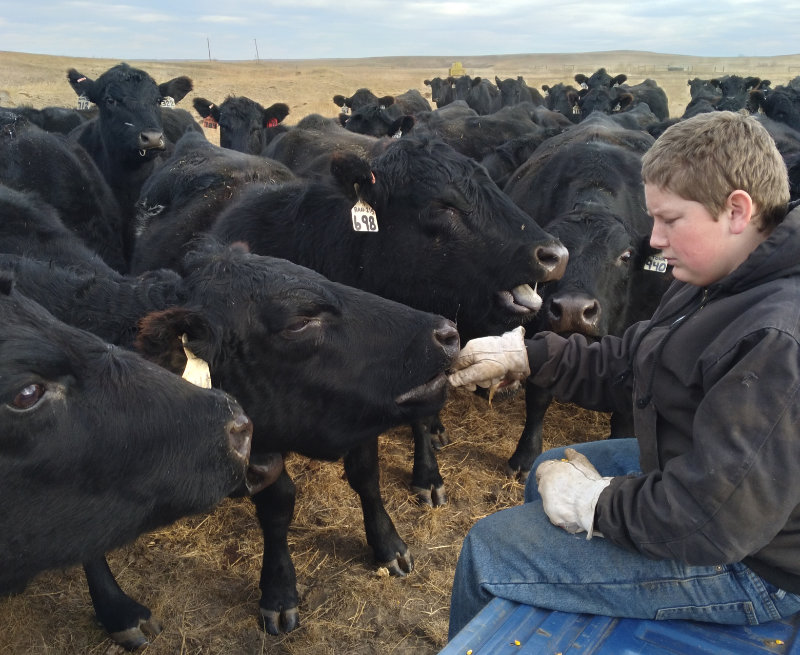 Welcome to Maher JM Angus Ranch. We are located 7 miles northeast of Morristown, SD. The ranch is currently owned and operated by Jeremy and Stefanie Maher with their 2 sons, James and John. Our ranch was established in 1917 by Jeremy's Grandfather (John Maher) then owned by his father (James Maher). Jeremy started his herd out by purchasing cattle from his fathers herd. He purchased his parents' cattle and land by 2006 and continues to grow the registered herd.
James and Darlene Maher started selling bulls in 1977 and then with their son, Jeremy, in 1999 until their deaths in 2012 and 2007. Jeremy and Stefanie have continued with their legacy by breeding bulls for longevity, docility, feet and utter quality, and feed efficiency. Our bulls are bred and fed to last in your herd. We don't believe in a high grain ration or creep feeding our bulls or heifers. We want our bulls to work for you.
We sell our bulls the last Thursday in January at Mobridge Livestock in Mobridge, South Dakota. We started selling April bred heifers and cows in 2006. Later, we started selling our bred cattle at the Christmas sale at Mobridge Livestock.
We would like to thank all of our past, present, and future customers for their continued support. Without you, our sale is not possible. We look forward to seeing you at our next sale.
If you would like to stop by and check out our bulls, please give us a call at 701-522-3696.
Sincerely,
Jeremy & Stefanie Maher
Congratulations James & John!
James won the 2021 Corson County Fair Grand Champion Bull Calf.
John won the 2021 Corson County Fair Reserve Champion Bull Calf.
Upcoming Events
---
45th Annual
Black Angus Bull Sale
1/27/2022
Listen To Our Radio Ads!